Ampang Jaya, Malaysia - On a recent morning, Normah Tambi, age 58, was in her neighborhood garden picking chilis. "I love this," she said. "It's great working in the garden. It's exercise that helps improve my health and I get to spend time with friends here."
This community garden, just under half a hectare in size, is growing fruits and vegetables including coconuts, mangos, jack fruit and durian. "There's a lot of healthy and delicious food here," Tambi said with a smile.
It's quite a turnaround for this piece of land that sits directly behind a low-income housing development in Ampang Jaya just outside of Kuala Lumpur, Malaysia's biggest city. Neighbors say there was a time when most people avoided coming to the area where the garden now sits because it was a dumping ground for trash and had several drug dens.
Normah Tambi picks chilis. She comes to the garden several days a week More and more community gardens are popping up in Kuala Lumpur, Malaysia's biggest city, and nearby towns.
"Previously this place was in very bad condition," said Mohamad Halim, 51, who has been involved with the transformation since day one in 2015. "It was filled with garbage which attracted lots of mosquitos, and lots of drugs were being used here too."
Halim says residents from this neighborhood partnered with some employees the town provided and over the span of four months converted an eyesore of trash into a neighborhood treasure. On a recent weekend, Halim walked around the garden, stopping to pick and smell the inner bark from a cinnamon tree.
"Now people come here for exercise during their leisure time and enjoy the sweet smells of the fruits and spices," he said. "People come here to see the beauty of nature and take photographs. There are wedding ceremonies and birthday parties here too."
Halim says about two dozen volunteers regularly maintain the garden and whatever their own families don't eat, they give away to neighbors. Volunteers depend on donations in order to buy seeds, soil, gardening tools and organic fertilizer. "The gardeners enjoy the activity, and we can help the community as well," Halim said
Community gardens are popping up across Kuala Lumpur and nearby towns. There is no umbrella organization for the country's community gardens, so the full count is not clear, but urban gardens are sprouting up in one place after another.
"People just seem to realize that in this urbanized area, a local garden can add so much to a community, which is why we keep seeing new ones being started," Halim said.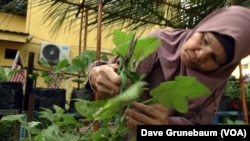 Sapiah Mat Khalip helped start a garden in her neighborhood in 2019. Whatever fruits and vegetables the gardeners don't use for their own families they sell to their neighbors for about 30 percent less than prices at local markets.
Just a five-minute drive away, in another community garden, Sapiah Mat Khalip, 62, shows up almost every day to water the soil and pick vegetables as well as fruits including eggplants and limes. She says the residents in her neighborhood started it as a flower garden in 2019 but later added fruits and vegetables.
"This got more people involved and made it easy for people in the neighborhood to get at least some of their food right outside their homes." Sapiah said. "The gardeners feel like we're doing something together for the community."
In addition to making it easier for everyone in Sapiah's neighborhood to access healthy food, the garden helps them save money. Sapiah says the garden has about a dozen regular volunteers who sell anything they don't use for their own families to the community for about 30 percent less than the market rate and all the proceeds are poured back into the garden for seeds, soil and tools.
Hazlin Hayati, 50, comes here regularly to buy fruits and vegetables for her family. "Buying food from here is cheaper than in the market and it's fresher too," she said. "My family loves the taste and appreciates what these gardeners are doing for all of us in the community."